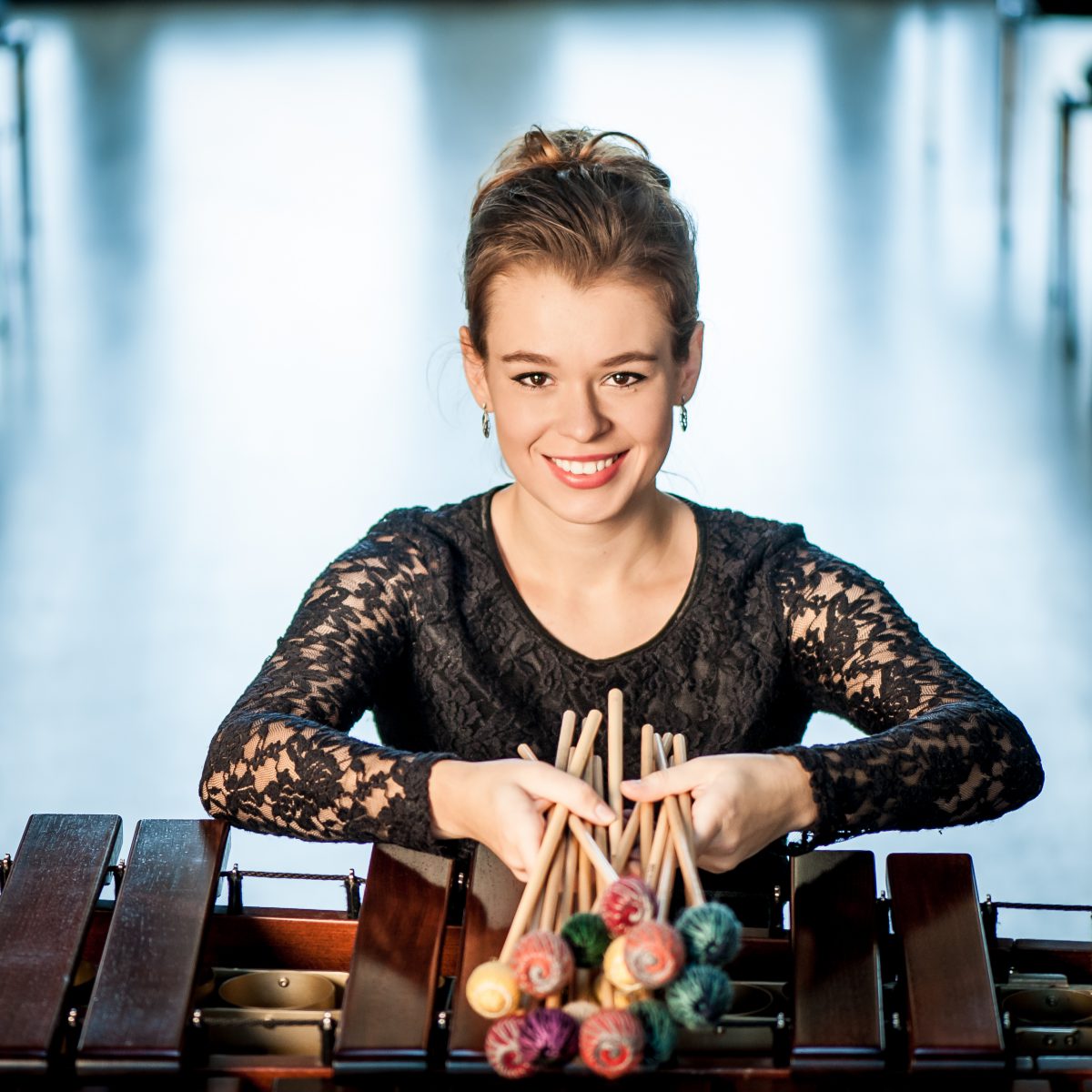 Marianna Bednarska is a young percussionist born in Poland. She runs an active concert activity, not only as a soloist but also as a chamber music performer and orchestra musican. She regularly receives invitations to international music festivals and cooperates with recognized personalities of the musical world.
At the age of seven, she took first piano lessons at the Karol Szymanowski Music School in Warsaw, soon followed by classical percussion classes. As a pupil of Henryk Mikolajczyk she completed the secondary education in 2012 and continued the studies in bachelor degree with Marta Klimasara, Klaus Dreher, Jürgen Spitschka and Harald Löhle at the State Academy of Music and Performing Arts in Stuttgart, where she graduated in 2017 with highest marks. Currently, she is studying for the Master Degree in Solo Music Performance under Philippe Spiesser, Christophe Delanoy, François Desforges and Claude Gastaldin at the Music University in Geneva.
Marianna Bednarska won many prizes and scored the highest marks from juries for her musicality and technique. The most important prizes were won in following musical competitions: 'Prix Credit Suisse Jeunes Solistes 2019', 'Grand Prix' at the ENKOR 2018 International Music Competition, 2nd Prize and the Special Prize 'Best Performance of a Belgian Composition' at the Universal Marimba Competition of the Belgian Queen (Belgium 2017), 1st Prize and the Special Pize at the International Percussion Competition at Northwestern (Chicago, USA 2016), 1st Prize and the Special Prize of the Bayerischer Rundfunk at the International Marimba Competition in Bamberg (Germany 2016), 1st Prize at the International Marimba Competition in Paris (France 2009), 1st Prize at the International Marimba Competition in Fermo (Italy 2008) and 1st Prize and the Special Prize at the International Percussion Competition in Plovdiv (Bulgaria 2007). She was also a finalist in the National Eurovision Competition 'Young Musician of the Year 2009'.
As a soloist, Marianna Bednarska has played concerts in many prestigious concert halls in Poland and abroad (USA, Germany, Austria, Holland, Danemark, Belgium, France, Switzerland, Italy, Croatia, Bularia, Ukraine), also with orchestras such as Sinfonia Varsovia, Aalborg Symphony Orchestra, Polish Radio Orchestra in Warsaw, Sinfonia Iuventus, International Chamber Orchestra of Washington, Lviv Philharmony Orchestra, Lviv Virtuosos.
She has received scholarships from the Polish Government, Sinfonia Varsovia Foundation of Franciszek Wybranczyk, Crescendum Est Polonia and Kunststiftung Baden-Württemberg.  In 2013 Marianna Bednarska was awarded with the 'Polish-Danish Friendship Prize' for her close connection with Danish musical life, culminating in the CD recording of Anders Koppel's four Marimba Concertos (DACAPO Records, 2014) which got extremely positive reviews, both in Poland and abroad (The New York Times, Gramophone, Deutschlandfunk, Fanfare Magazine). As a soloist, she also created recordings for the Bayerischer Rundfunk as well as for Polskie Wydawnictwo Muzyczne in it's project '100 for 100. Musical Decades of Independence'.
On August 22, 2019, Marianna Bednarska will make her debut as a soloist at the Lucerne Festival.