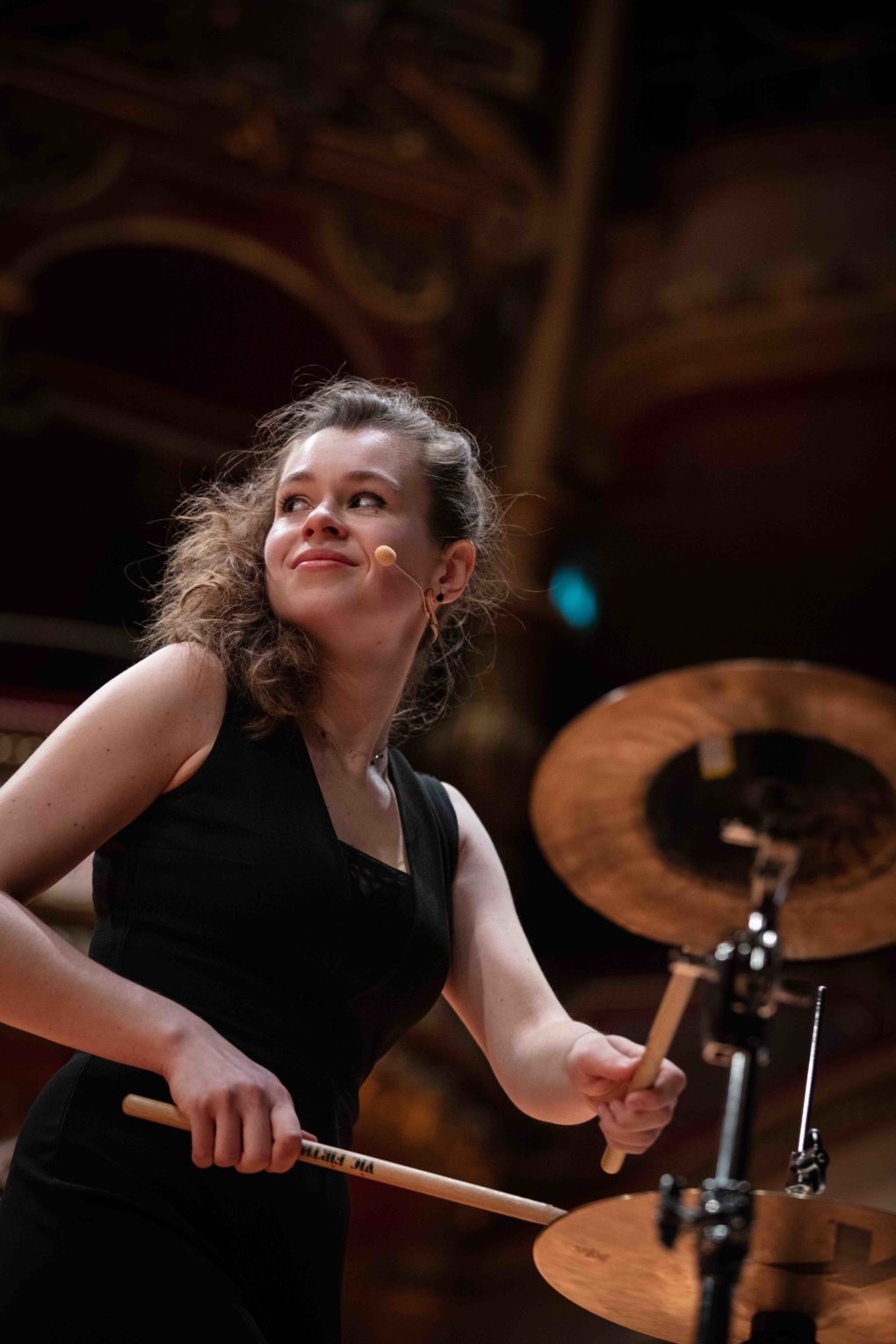 BIOGRAPHY
Marianna Bednarska is a young polish percussionist, whose outstanding musicality, artistic versatility and charming personality strongly engage audiences around the world. Her musical language clearly exposes the richness of musical styles, that combine various performance traditions and diversity of musical eras with innovative elements of musical theater and electronics.
Her active concert activity as a soloist appears in regular invitations to international music festivals, such as the Lucerne Festival, Budapest Spring Festival or PAS China International Percussion Festival. As an open-minded artist she is also active both as a chamber music performer and as an orchestra musician.
The strong need to deepen the sound horizons and to search for new means of expression are manifested in multidimensional performances of Marianna Bednarska, who in her musical language broadens the audiovisual boundaries, at the same time always remaining faithful to music as the highest value. In the spirit of this idea, next to the reach performance activity she is currently working with an international group of composers on the premieres of new percussion works, the aim of which is to introduce the classical percussion into a new performance dimension.
Unique musical qualities, extraordinary technique and strong stage appearance of Marianna Bednarska led the juries of world-recognized musical contests to honoring her with the most prestigious awards, such as the 2. Prize and 'Yamaha Special Young Artists Prize' at the 74th Concours de Genève 2019, 'Prix Credit Suisse Jeunes Solistes 2019', Grand Prix at the International Music Competition ENKOR 2018, 2. Prize and the Special Prize at the Universal Marimba Competition under the High Patronage of Her Majesty Queen Paola or the 1. Prize and the Special Prize at the International Percussion Competition at Northwestern in Chicago, USA. She also became the winner of international percussion competitions in Germany, France, Italy, Bulgaria and Poland, as well as a finalist of the National Eurovision Competition 'Young Musician of the Year 2009'.
Her artistic mission of promoting percussion music around the world manifested both through numerous solo performances in many prestigious concert halls around the Europe and USA and in solo concerto appearances with orchestras such as Orchestre de la Suisse Romande, International Chamber Orchestra of Washington, Sinfonia Varsovia, Aalborg Symphony Orchestra, Polish Radio Orchestra in Warsaw or Lviv Philharmony Orchestra.
Marianna Bednarska's devotion to expand and spread the percussion repertoire appears in active cooperation with composers and her work on phonographic recordings. In 2014, at the invitation of the renowned Danish composer, Anders Koppel, she recorded as the first percussionist in a history all of his marimba
concertos on her debut CD album 'Marimba Concertos'. In 2018, in cooperation with the polish composer Grażyna Pstrokońska-Nawratil she also recorded the Percussion Concerto 'Le Soleil' for the CD Box '100 for 100. Musical Decades of Freedom', which was honored with two prestigious awards 'Fryderyki 2020'.
In reference to her achievements and contribution to musical world, Marianna Bednarska has been awarded with numerous scholarships from the Polish and Swiss Government and received prizes such as Kunstiftung Baden-Wurttemberg and the 'Polish-Danish Friendship Prize' for special artistic achievements and exceptional activity between both countries.
Marianna Bednarska completed the secondary education in 2012 and continued the studies in bachelor degree at the Staatliche Hochschule für Musik und Darstellende Kunst in Stuttgart, where she graduated in 2017 with highest marks. In 2019, she passed her master's degree exams with distinction at the Haute Ècole de Musique in Geneva, where she is currently studying for her Certificate of Advanced Studies.
Marianna Bednarska is a Yamaha Artist since 2019.